16 juillet 2020 News
EFFICIENCY, SUSTAINABILITY AND COMFORT IN THE NEW UNIVERSITY CAMPUS OF PADOVA.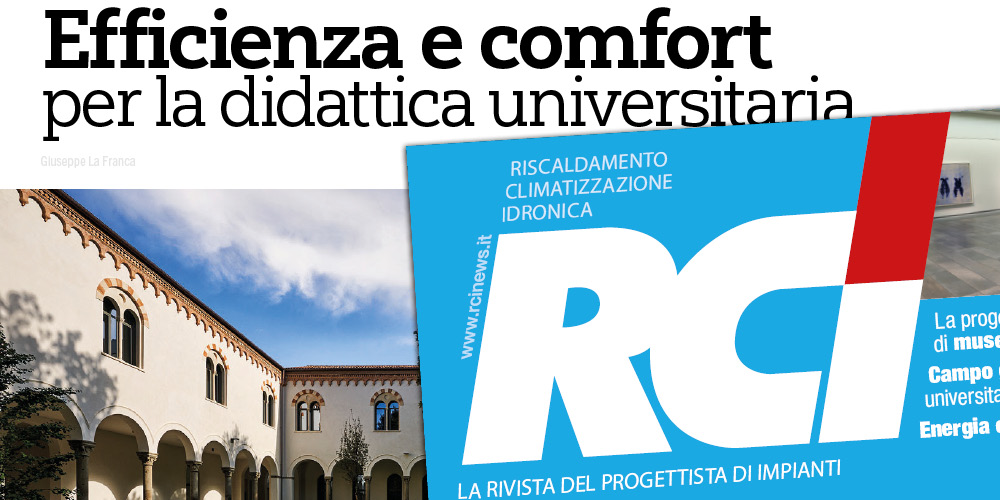 The magazine RCI (Riscaldamento Climatizzazione Idronica) dedicates ample space to the new Humanistic Pole of the University of Padua, located in the renovated complex of the former geriatric hospital.
For this prestigious project Rhoss has supplied heat pumps, AHUs and fan coils.
To ensure the basic air conditioning of the entire complex, 2 Y-FLOW THHEBY 4180 water-to-water heat pumps were installed inside the new heating and cooling plant and, located on the roofs, there are 2 additional WINPOWER HE-A THAETY 4460 air-water heat pumps that come into operation in the event of peak heat demand.
The rooms are air-conditioned by very low consumption brushless type fan coils, equipped with devices for local and remote control of temperature, speed and, in classrooms, air flow rate.
To further increase the system efficiency of the complex, a system for heat recovery and air renewal has also been installed, for a total of about 103,000 m3/h of treated air.
Fonte: RCI nr. 4 (04/20), Giuseppe La Franca