24 July 2020 News
...AND THE WINNER IS: RHOSS EXP!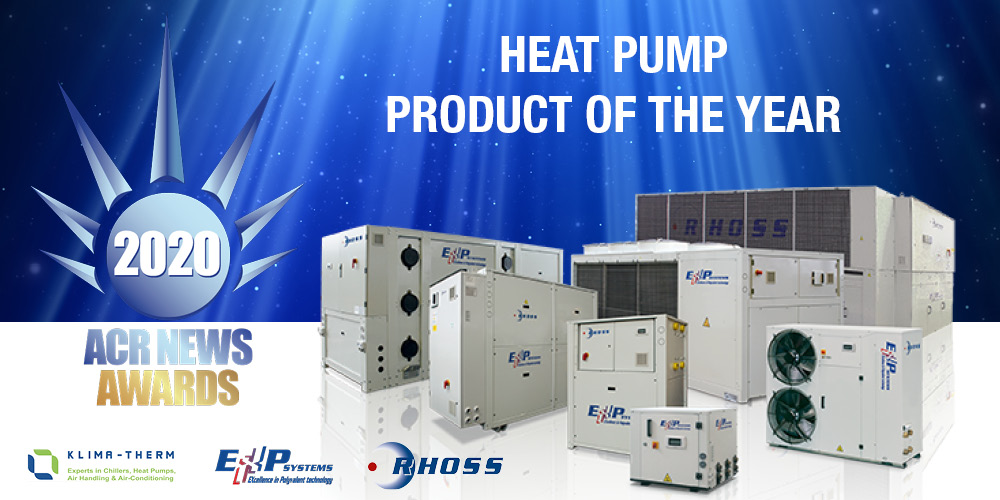 We are proud to announce that our multi-purpose ecological system EXP received the "HEAT PUMP - PRODUCT OF THE YEAR" award at the ACR News Awards 2020, won by our UK distributor KLIMA THERM. During the ACR News Awards 2020, an event that took place virtually on July with the entire industry following the event online, the winners were announced live streaming.

EXP Systems is the multi-purpose ecological system designed by RHOSS to satisfy cold and hot water demands simultaneously or independently with a single unit. It is designed for use in 2, 4 and 6-pipe systems, any time of the year.

TECHNOLOGY AND VERSATILITY: EXP Systems allows to create a complete air-conditioning system, thereby obtaining a double result with a single unit and a single charge.

FLEXIBILITY: EXP Systems adapts to the various installation needs of the system thanks to its countless configurations and accessories that make it a plug&play unit.

ECO FRIENDLY SOLUTION: EXP Systems can be defined as a polyvalent eco-friendly unit designed with the environment in mind because it represents the efficient evolution of the electric heat pump, in line with the strictest European directives. The high yields in the heat recovery mode further increase the difference compared to traditional systems, thereby reducing direct and indirect emissions that contribute to the greenhouse effect.

This innovative system, which won the award in 2020, is considered one of the key solutions towards zero emissions transformation in the built environment. EXP is a range designed in order to have more and more efficient products, with reduced consumption and minimum environmental impact.
Discover the EXP technology and all its advantages!
Click here to discover the full range of products with the innovative EXP system.